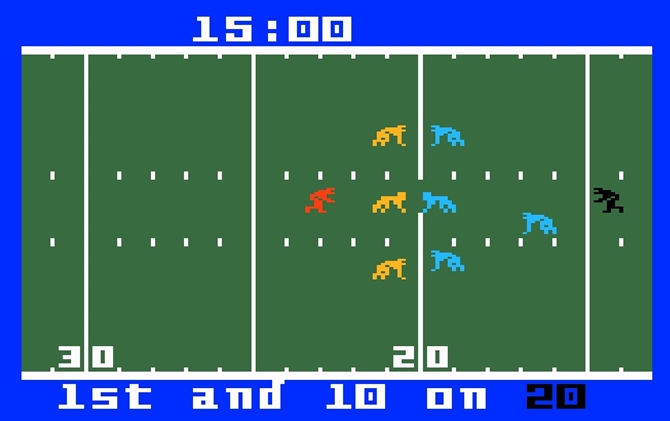 My cousin Curtis emailed me this morning with some fun memories from my youth.  Curtis and his brother Greg were from South Florida, so we only saw them over Christmas.  They would pile in the car, drive for 8+ hours, arrive in Atlanta, and we would be in constant motion and adventure until they left.  Great memories.
His email now has me thinking about some of my favorite toys from my childhood.  It was a simpler time, the 80s, and the toys reflected the time.
In the end, I was always a "sports guy", so most of my time was spent outside with friends.  Depending on the season, we would run home from school, drop off our books, and grab either a football, basketball, or baseball equipment.  It was never a matter of IF we were going to play something, but rather which sport would be played on that particular day.  In a word, it was awesome.
However, there were always rainy days and nights when sports were not an option.  When this was the case, we turned to our "inside toys".
In the 80s, when I was a kid, technology was painfully lacking.  From the vantage point of 2014 looking back, our "electronic" toys now seem like they were from the Neolithic Era.
So, in reminiscing about my youth today, here are 3 epic toys from my childhood.
Electric Football – Looking back, this was the strangest game I owned as a kid.  It was comically low tech.  "Electric Football" was an aluminum football field, 27×16 inches, with the technological complexity of a waffle iron.  The rules were simple.  You lined up your "team", which consisted of ½ inch plastic football players, in whatever formation you desired.  You designated which player would have the ball.  Then to the "action". . . you hit the start button and the field began to vibrate with the consistency and sound of an electric razor.  It was also surprisingly loud.  The sound drove my dog crazy.  The "players" would then move at a literal snail's pace in various directions.  If your guy with "the ball" moved forward, this was good.  If he moved backward, this was cataclysmically bad.  If you were on "defense", your only goal was for one of your guys to touch the ball carrier.  This was a "tackle".  The process would then begin all over.

2 "players" on Electric Football going head-to-head.

"Electric Football" was maddeningly slow paced and boring; even for the 80s.  The problem was that it LOOKED awesome on the box.  It was an incredible concept.  However, the execution was always woefully inadequate.  We would set up elaborate formations, press start, then sit there bored while the "players" just convulsed back and forth in no apparent direction.  Always a major let down.  Add to this, my dog "Jingles" would always think the game was real grass, as it was green.  She would leave gifts for me right in the middle of the field of play, eventually causing rust to form in spots.  I guess this was her way of protesting the obnoxious sound the game made.  Not good.

Intellivision – In the 80s, there were two primary video game consoles.  There was Atari and the lesser known, yet far superior Intellivision.  The name was a product of brilliant shorthand of the phrase "intelligent television".  For the time, the sports games for Intellivision were cutting edge.  The football game was Madden before the concept of Madden was even on the drawing board.  Again, looking back, it is a joke how bad the graphics were (I literally laughed to the point of tears upon looking at this pic I have at the top of this post. . . literal tears).  However, at the time, Intellivision was a legitimate Friday night for my buddies and me.  Unlike "Electric Football," Intellivision NEVER disappointed.  Unless, of course, it locked up in the midst of a tight game, which was frequent in those days.  Even though I came to near blows with my friend Darren more than a few times while locked in intense Intellivision battles, it was always worth it.
Bigwheels – On days when weather was too bad for team sports or when there just were not enough kids around to make teams, Bigwheels were pulled out at 'ole Castleridge Court (the cul-de-sac where I grew up).  Bigwheels were just what it sounds like; little trike-looking vehicles which were almost all wheels.

Just like the Bigwheel I used to shred Castleridge Court as a 5 year old.

They were tiny, but would fly (at least it seemed that way when I was 5).  We would start at the top of hills in my neighborhood and let loose.  Top speeds were probably all of 10mph, but it seemed as if we would break the sound barrier on certain days.  Most days of "Bigwheelin'" would end upon a Bigwheel hitting a curb or just flipping over during top speeds.  The black, plastic wheels would screech and our 40lb bodies would go flying over the front handlebars.  The result was usually a wicked bloody knee or elbow or both.  No tears, though, as it was the code of the Bigwheel rider.  We would grimace, limp inside, and then receive a thorough coating of Bactine from Mom, followed by a trusty band-aide.  Though showers would be rough for the next day or two and legs would inevitably stick to sheets and jeans during the healing process, it was all worth it.  Little boys love two things; speed and danger.  Bigwheels were delightfully both.  Bigwheels were awesome.
Which toys did I miss?  What were toys you liked as a kid?