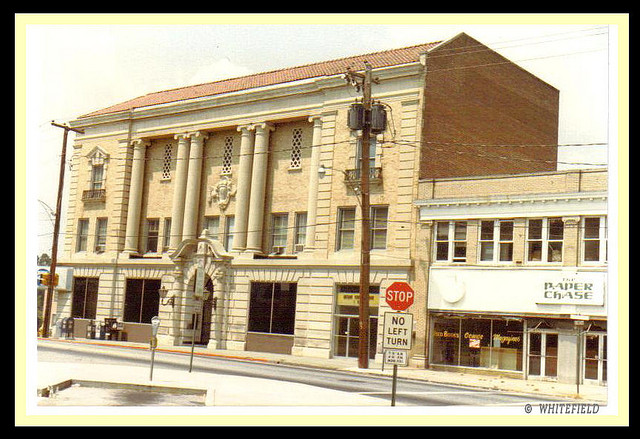 The Paper Chase was across from the Decatur Square in Atlanta.  It really was my "happy place" for a portion of my childhood.  Though gone now, it was the largest, best baseball card dealer in the city at the time.
My sister Becky took ballet right down the street.  Seeing that I was too young to be left alone, I had to go along for the ride.  The Paper Chase made what could have been torture into something I looked forward to.
Mom and Becky would land at the ballet studio.  I would walk up the hill and be in baseball card nirvana.  Box after box of baseball cards were there to search for hidden treasures in the form of cardboard pictures of baseball stars, past and present.
The best thing about this was that my friends did not have the consistent access to the Paper Chase as I did.  I knew all the players they liked.  If could get some of these cards, then I could trade them for some of their more coveted cards.
For instance, my friend Darren loved the Philadelphia Phillies.  If I could secure the Phillies cards he wanted, then I could get his Ricky Henderson card which I desperately wanted.
Since I was maybe 8 years old at the time, I had virtually zero net worth.  Any money I came across was a result of begging parents, mowing yards, selling lemonade, or guilting my teenage sisters into giving me some of theirs.
Additionally, my Mom was not stupid.  She would always make sure I didn't have money in my pockets before going into my favorite store.  It would have been virtually impossible for me to walk out of the Paper Chase with money.  Impossible.
As a result, I had a "Paper Chase method" of operations.  When I came across a baseball card which I wanted, I simply hid it deep in an obscure stack of cards in the corner of the store.  My hope was that when I returned the next week, hopefully with a little money, the card would still be available for purchase.
It worked most of the time.  To this day, I can tell you where to find the Ricky Henderson card I got from Darren as a result of this method.  It is in a box in my parent's attic.
This morning I read Matthew 13:44.  It is from Christ Jesus' teachings about the Kingdom of God.
"The kingdom of heaven is like treasure hidden in a field, which a man found and covered up. Then in his joy he goes and sells all that he has and buys that field."
I thought of my Paper Chase days in Decatur as I read this passage.  Whenever I found a "treasure" in the form of a desired baseball card, I would literally hide it, do everything I could to wrestle up the needed resources, acquire it a week or so later, and leave the Paper Chase in abject joy.
I thought about Tracey and the brevity of life as I read this passage.  I am convinced I have found the kingdom of heaven through the person and work of Christ Jesus.  I would stake my life upon this reality.  However, rarely does my life exhibit the same type of intentionality which EITHER I did as an 8 year old when my pursuit was merely baseball cards OR the man that buys a field.
Lord Jesus, may I simply live my life making the kingdom of heaven my priority day in and day out.  I confess that this is rarely the case.  May I truly "sell everything with joy" in pursuit of You and Your kingdom.  Please grow me in this area.