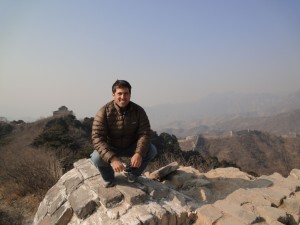 Looking out over the horizon from the window in my apartment, I sometimes ask myself "how did I get here?"  I am an American, who has now spent the majority of my post-college life studying, working, and living in East Asia.
I am a Christian.  I am a perpetual student in subjects such as history, religion, strategic leadership, business, language, and cross-cultural adaptation.  I am one who grapples with the realities that this life is short and I honestly want to invest my days on earth well.  I am a single man and I earnestly miss family, friends, and life in America.  However, I love my life, work, and the community I am a part of here in Asia.
In this blog, my aim is simple. . . process life lessons from the past, grapple with present day challenges and joys, and look to the future in light of how the past and present informs the future from my point of view.
My passions are life purpose, leadership, and simply walking through life's joys and pains as a faithful follower of Christ.
Personally, I enjoy utilizing the different types of social media for different personal usages.
If you are new to this blog, I suggest you start here. . . My Most Read Posts.
In this blog, I like to do short series on various topics.  So far, I have enjoyed most doing these series:
For more on the background of this blog, see the following: